Disinfection procedures made easy
Measurement of disinfection potential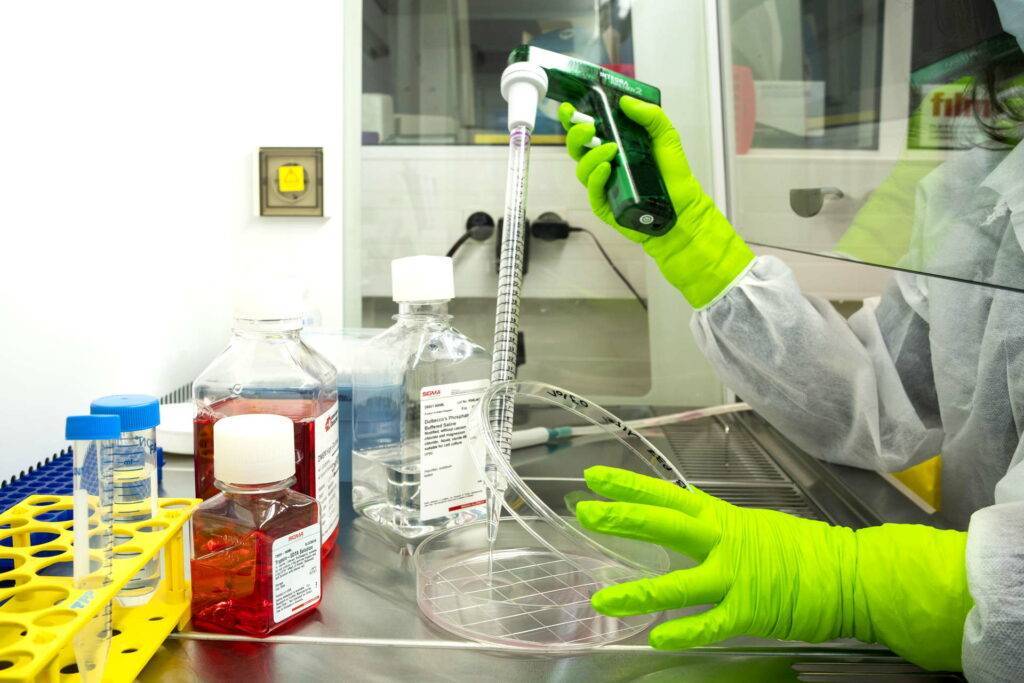 We only score infectious viruses…
Our technology allows us to quickly calibrate and validate the development of disinfection devices. We can study all types of disinfection processes on our viruses and calculate the precise abatement to determine the optimal conditions of use.
We have already participated in the development of chemical, physical or radiative disinfection processes leading to the commercialization of innovative materials and decontamination devices. Contact us for more information.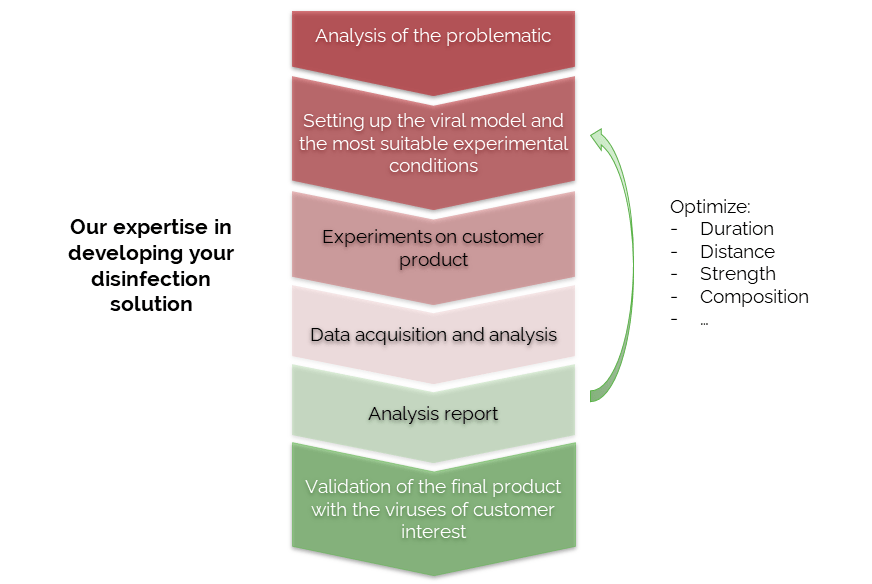 Partnership with VirHealth for your normative tests
VirHealth SAS is a French biotechnology company focusing its activity on the measurement of virucidal/antiviral activities of products, devices, and technologies for disinfection using standardized and bespoke experimental approaches in an ISO9001 environment. The company provides services to investigate virucidal activity of disinfectant products and  equipment according to FR/EN/ASTM standards and has a strong expertise in the evaluation  of the antiviral activity of surface, materials, and textiles. Moreover, VirHealth develops bespoke decontamination procedures for analyzing of equipment and technologies (radiation, chemical, physical) according to specific customer needs
Olivier Authier
The goal of CLINIT Technologies was to design and manufacture an efficient UV disinfection box but on our market, all is invisible : viruses and UV-C radiation. So how to prove the efficiency on viruses, how to show it to our customers ?We contacted NEOVIRTECH seeking for answers, with the aim to guarantee the effect of our e-Box and attest it by a report. We found more than scientists. We found involved people with high reactivity, high availability, highly skilled sharing same values as us. Their auto fluorescent technology is magic, in real time we can see virus destruction. Amazing !!! In an agile way of working, and thanks to fast results, we reached our objectives in a very short time. By adjusting our box to the good level of radiations, we guarantee high efficiency and cherry on the cake : illustrated by beautiful images of virus eradication in real time. NEOVIRTECH is more than an independent laboratory, it's a center of excellence in their domain and a source of improvement for us
Thursday, August 31, 2017
Dr. Philippe Erbs
Transgene SA is a biopharmaceutical company developing for more than 30 years innovative targeted-immunotherapies to answer unmet medical needs in the oncology and infectious disease fields. We were looking for a rapid and efficient solution to investigate the behavior of our products using high-resolution quantitative microscopy. NeoVirTech's autofluorescence technology and screening platform allowed us to precisely visualize, understand and compare the behavior of our products directly using live cell microscopy techniques. The beauty and quality of the data they can generate open a new perspective for our activities, boosting up our research and validation processes. Thank you NeoVirTech for this ongoing precious collaboration.
Oncolytic Virus Department. Transgene S.A, Illkirch Graffenstaden, France
Thursday, August 31, 2017